Prostate Cancer: From Diagnosis to Treatment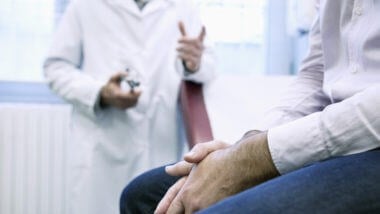 In the United States, the American Cancer Society predicts about 191,930 new cases of prostate cancer in 2020. What should you do if you are one of the men who receive this diagnosis? We know you have questions and concerns so we have created this guide to help you navigate this journey toward health.
Find the Right Specialist
Your prostate cancer may have been diagnosed by a primary care physician, urologist or internist, but you will need to receive treatment by an oncologist, which is a physician specializing in the treatment of cancer, or a urologist who has additional training to provide specific treatments for prostate cancer.
Depending on your specific case, you may receive radiation therapy or chemotherapy to kill cancer cells, hormone therapy, surgery or a combination of treatments. The physicians of Kasraeian Urology practice are trained to deliver a variety of prostate cancer treatment options.
Take Notes
Once you receive a prostate cancer diagnosis, you will receive large amounts of information, and it can be difficult to retain everything you need to know. For this reason, we strongly recommend that you take notes during each of your doctor's appointments. The best way to stay organized during the course of your treatment is to purchase a notebook with pockets or a three-ring binder that can be used to:
Take notes
Store receipts
Keep copies of test results
Organize instructions and other handouts
Record the times, dates, and locations of physician visits and treatments
List questions and concerns that you want to discuss later with your physician
If you are concerned that you will miss important information while you are taking notes, ask your doctor if you can record the treatment session using your smartphone. In addition, you can ask someone to serve as your support person to attend the appointments with you so that they can take the notes.
What to Expect at your First Appointment
During your first appointment, you will listen as your physician explains your condition and how advanced it is. At this time, he or she will present a general plan to begin treatment and may schedule additional tests, x-rays or scans to best guide your treatment.
You need to prepare for this visit by bringing your notebook and support person, as well as the following:
Your insurance information: Bring your insurance card or any additional insurance information.
Photo ID: Bring two forms of identification, including one photo ID. This includes a driver's license, passport, military/school ID card, etc.
New patient forms: Please fill out all new patient formsand bring them with you.
Medications: Bring a full list of your current medications and dosage.
List of questions: Write down any questions you have, so you don't forgot to ask your physician at your visit.
Questions to Ask your Doctor
The saying "knowledge is power" is very applicable in responding to a prostate cancer diagnosis. The more you know, the better prepared you are to understand your treatment options and anticipated outcomes. Questions you should ask include:
What is the clinical stage of my cancer? All cancers are rated on a scale of 1 through 4, with 1 being the earliest stage and 4 being the most advanced.
What is my cancer's Gleason score? This score is a grading system for cancer cells and ranges from 1 to 10. Rating 1 is the least aggressive cancer cells and 10 is the most aggressive.
Do you know if my cancer has spread beyond my prostate?
Do I need any additional tests before you decided how my cancer will be treated?
How long do you expect the cancer treatment last?
How can I prepare for the treatments you recommend?
What side effects should I expect during prostate cancer treatment?
Will I experience incontinence or impotence?
Should I change my diet or exercise habits during my prostate cancer treatment process?
Should I call my primary care doctor or my oncologist if I have medical issues that don't seem to be related to my cancer?
Your physician will probably answer many of these questions during the first appointment, but keep this list with you to record the answers and identify questions that have not yet been addressed.
Prostate Cancer Clinical Trial Options
Cancer clinical trials usually involve testing new dosages or new combinations of drugs that have already been approved by the Food and Drug Administration (FDA). One of the key benefits of participating in prostate cancer clinical trials is that you have access to potentially effective treatments before they are available to the public. In addition you will receive extra medical care because clinical trial participants must see an oncologist or research nurses more frequently.
Kasraeian Urology physicians can help you find appropriate clinical trial opportunities but you will need to qualify to participate.
Prostate Cancer Treatment and Insurance
Once you receive a prostate cancer diagnosis, it is important to contact your insurance provider to determine the extent of their coverage and receive an estimate of your out-of-pocket costs. For Medicare beneficiaries, inpatient services are covered under Medicare Part A and outpatient surgeries are covered by Medicare Part B. If you need help with this process, our patient benefits specialist can help you determine what your insurance will and will not cover.
Second Opinions
You always have the option of obtaining a second opinion, and doing so can often help to clarify your options and give you greater confidence in the choices you make. Before scheduling an appointment for a second opinion, contact your insurance company to determine if it is a covered benefit.
Remember That You are Not Alone
The Prostate Cancer Foundation is a great source of information about your disease and can provide strength and comfort. In addition, there are local support groups and other resources available to help you and your loved ones manage your medical journey.
Kasraeian Urology
Our physicians have the training and expertise to diagnose and treat your prostate cancer, and our caring team will be there to support you every step of the way. Given the current pandemic, we can schedule this appointment with Kasraeian Urology either bytelevist or in-person appointment at our Beach Boulevard location in Jacksonville, Florida.