The Benefits of Televisits with Kasraeian Urology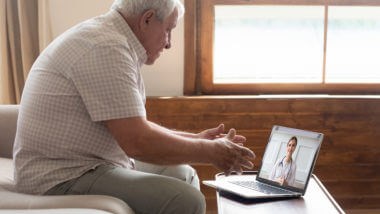 Kasraeian Urology now offers telemedicine/video appointments for selected new and follow-up care visits. While some urology consultations must be conducted in our offices, we have chosen to add televisits to our telemedicine services to assure that our patients have continued access to needed medical visits.
Types of Telemedicine Services
There are two types of telemedicine services now available through our practice, the patient portal and televisits.
Patient Portal
Our patient portal is a telemedicine service that have always been a core part of our practice, delivering 24 hour/7 days per week access to our physicians and staff. The patient portal is an excellent way for you to:
Request a prescription refill;
Request an appointment;
Send secure messages to your physician and nurses;
Review portions of your medical record;
Complete and submit forms;
Review and pay your bill; and
Receive reminders of upcoming appointments.
Our patient portal can be accessed by both a smart phone and a computer. If you do not yet have a patient portal account through Kasraeian Urology, simply click on the pre-register button on the log-in page to create an account. Visit our patient portal login page to learn more.
Televisits
To help ensure the comfort and safety of our patients during the COVID-19 pandemic, we now offer televisits. This interactive-video conference allows you to have direct interaction with your physician from the comfort and privacy of your home, office, or location of your choosing. You will need either a smart phone or computer equipped with a camera and audio communication capabilities to use this service.
The benefits of our televisit system include:
Maximized patient experience;
Reduced exposure to Covid-19 and other illnesses;
Increased access and efficiency of care; and
Elimination of travel time, parking, and other barriers.
Who Benefits from Urology Televisits
Televisits are a convenient and safe opportunity to meet with your physician to address urology health needs. These visits are best for:
Patients with chronic conditions, including erectile dysfunction, stone disease and frequent urinary tract infections, which require monitoring;
Patients requiring follow-up care following a medical procedure;
Patients experiencing new symptoms and require advice from their physician regarding treatment and to determine if there is a need for an in-office visit; and
Some new-patient evaluations.
While televisits can serve many of our patients, in-office visits are necessary for many new patients and current patients who require testing or direct physician care.
Telvisits and Insurance
Televisits are covered by most insurance companies and applicable co-pays will be billed to you just as they would for a traditional in-office visit. For patients covered by Medicare, please note that through the Coronavirus Preparedness and Response Supplemental Appropriations Act, (CARES) the Secretary of Health and Human Services has temporarily waived certain restrictions on Medicare coverage of telehealth service. This waiver allows all beneficiaries, regardless of geographic location, to:
Receive telehealth services;
Remain in their homes for telehealth visits reimbursed by Medicare; and
Have telehealth visits be delivered via smartphone with real-time audio/video interactive capabilities in lieu of other equipment.
This law also removes the requirement that providers of telehealth services have treated the beneficiary receiving these services in the last three years.
Please do not allow fears of contracting COVID-19 to stop you from receiving the medical care you need. At Kasraeian Urology, we have expanded our telemedicine services to include televisits so that our patients can receive the care they need without fear of exposure. Please call us at [email protected] to learn more about televisits and schedule your appointment today.