A Deeper Look into UroLift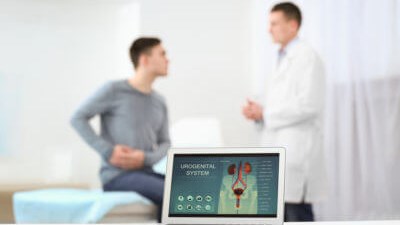 About 50% of men between the ages of 51 and 60 have enlarged prostates (BPH) and this number jumps to 90% for men older than 80. UroLift has proven to be a safe and effective treatment for relieving lower urinary tract symptoms due to BPH without compromising sexual function.
Typical BPH symptoms include:
• Urinating more often, especially at night
• A weak urine stream
• Trouble starting the flow of urine
• Starting and stopping again when urinating
• Not emptying your bladder completely
• Sudden urges to urinate
• Leaking or dribbling after you urinate
• Straining to urinate
Men who have had the UroLift procedure no longer experience these challenges.
An enlarged prostate compresses the urethra, making it difficult for urine to flow. The minimally-invasive UroLift procedure uses a few small stitches to hold the prostate tissue out of the way, which increases the opening of the urethra and allows urine to flow unimpeded. The typical UroLilft procedure takes 10 minutes and is completed under mild sedation. This procedure may be done in a physician's office, outpatient surgical center or hospital.
Men who have this procedure experience minimal recovery time and there is no need for a catheter.
Advantages of the UroLift Procedure
In additional to being minimally invasive, other important advantages of this procedure include:
• Rapid symptom relief. Clinical trials found that the results of the UroLift were better than reported for medications.
• Risk profile is better than reported for surgical procedures, such as TURP, meaning that this treatment option is available to more men with fewer risks.
• Preservation of sexual function. Unlike other treatment options, sexual function is not impaired.
• Return to normal activity in days not months. With the UroLift, men can quickly return to their normal routine.
• Increased quality of life. With fewer trips to the bathroom and the retained sexual function, men who have been treated with a UroLift procedure have reported improved quality of life.
• No ongoing BPH medications. With the UroLift procedure, you can discontinue your current BPH medications.
• Treatment effectiveness confirmed through studies. Nineteen clinical study publications and 5 years published clinical data means that this is a procedure that has been verified as effective in both the short and long term.
Next Steps
Schedule an appointment to speak with Dr. Ahmad Kasraeian or Dr. Ali Kasraeian about the UroLift procedure and whether it is the best treatment option for your condition. A few tests must be completed to determine if UroLift is right for you.
Next, we will schedule the minimally-invasive procedure here in our office. Most patients return home the same day without a catheter. Symptom improvement may improve within two to four weeks.
Insurance Coverage
UroLift is covered by most insurance plans, including Medicare. Given the out-of-pocket costs of BPH medication averages $2,400 per year, this procedure is both cost-effective and eliminates the worry of medication side effects.
Don't Wait
With the UroLift procedure, there is no reason to live with the symptoms of BPH. Contact our office today to schedule an appointment and recapture your quality of life.